New order WooCommerce notification on mobile phone
The owners of online stores constantly have a desire to receive notification of a new order on their mobile phone. It's much more convenient than checking your email every time. There are different solutions for this task, but almost all of them are absolutely useless: either the settings are too complicated and you need to register and receive different keys in several services, or they offer to pay for the service right away, and then try to set it up.
As a result, everything works in an incomprehensible way. I couldn't find a complete solution anywhere. Necessarily, in every new plug-in, I encountered some difficulties that were very tiring for me, as a programmer. When I set everything up, it turned out that everything didn't work quite the way I needed or didn't work at all.
But just recently I found the perfect solution: simple, free and everything works! Tested on several sites for a month and did not notice any problems. Now I will share with you this wonderful way to get new order notification from WooCommerce on your mobile phone.
The wordpress plugin is called Mobile Assistant Connector.
Suitable for Android and iPhone
The flow of your daily orders to give you a clear overview
Know exactly when an order is created, updated and deleted
Check your order details: number, status, channel, total amount
View your customer information immediately: new/returned, name, country, phone number, email address.
Find out which payment and shipping methods you prefer
Billing and shipping address
Snooze notifications if needed
Turn on Do Not Disturb
Pull to refresh
Date picker
Are you a multiple store owner? Now you can switch between multiple accounts right from the app!
How it works
When installing the plugin, some settings will be available to you, mainly they are related to specifying which order letters to send you. There's nothing complicated, you just need to check the boxes what to send.
And you will have access to 2 qr-codes, one null for installing the application on your phone, and the second for the application to connect to the site. All.
Installing the program on the site
Open the Plugins section in your site's admin panel and click Add New.
Type Mobile Assistant Connector in the search bar. The author of the eMagicOne plugin.
Install the application and activate.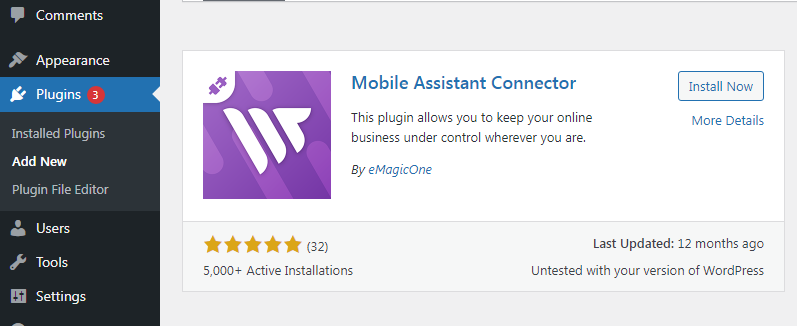 After installation, open the program settings panel. In principle, everything is very simple here. You will see 2 qr-codes.
the first one you need to scan with the camera of your mobile phone, this is necessary in order to go to the play store where you can install the program on your phone. As an alternative, you can follow the link and download and install the program on your phone.
the second code will need to be scanned by the mobile phone camera when you open the app on your phone. This will link to your site.
Permissions. You can check the boxes for the options you see fit. You can specify any login and password, they are automatically transmitted when you later scan the second code.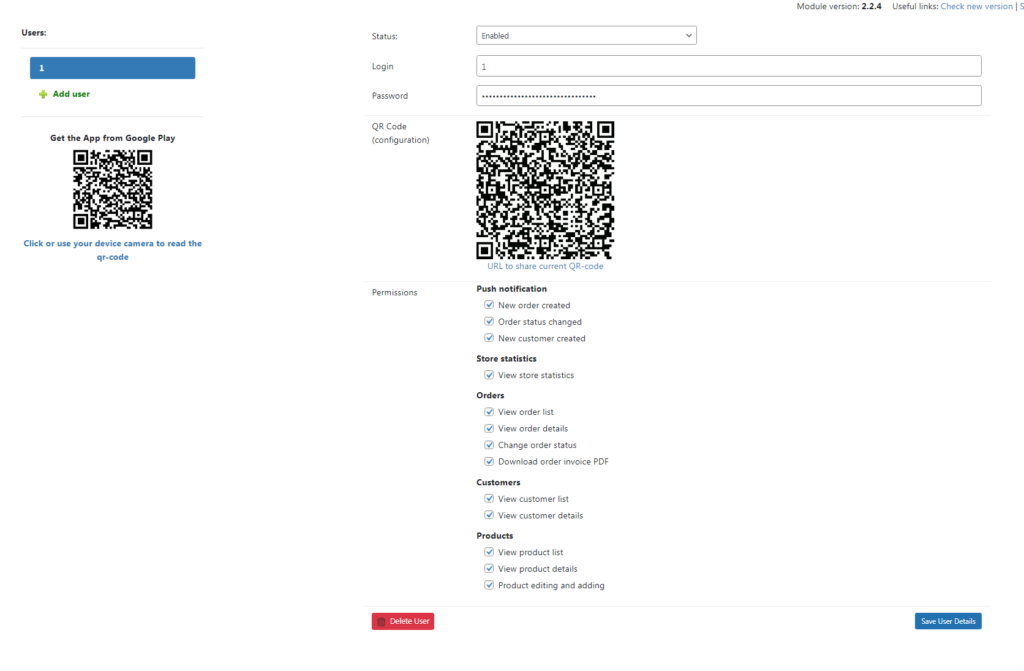 ---
Installing the program on a mobile phone
Scan the first qr code (which is on the left) with your mobile phone camera. This code encodes a link to an application in the Play Store that will open on your phone. This application must be installed on the phone.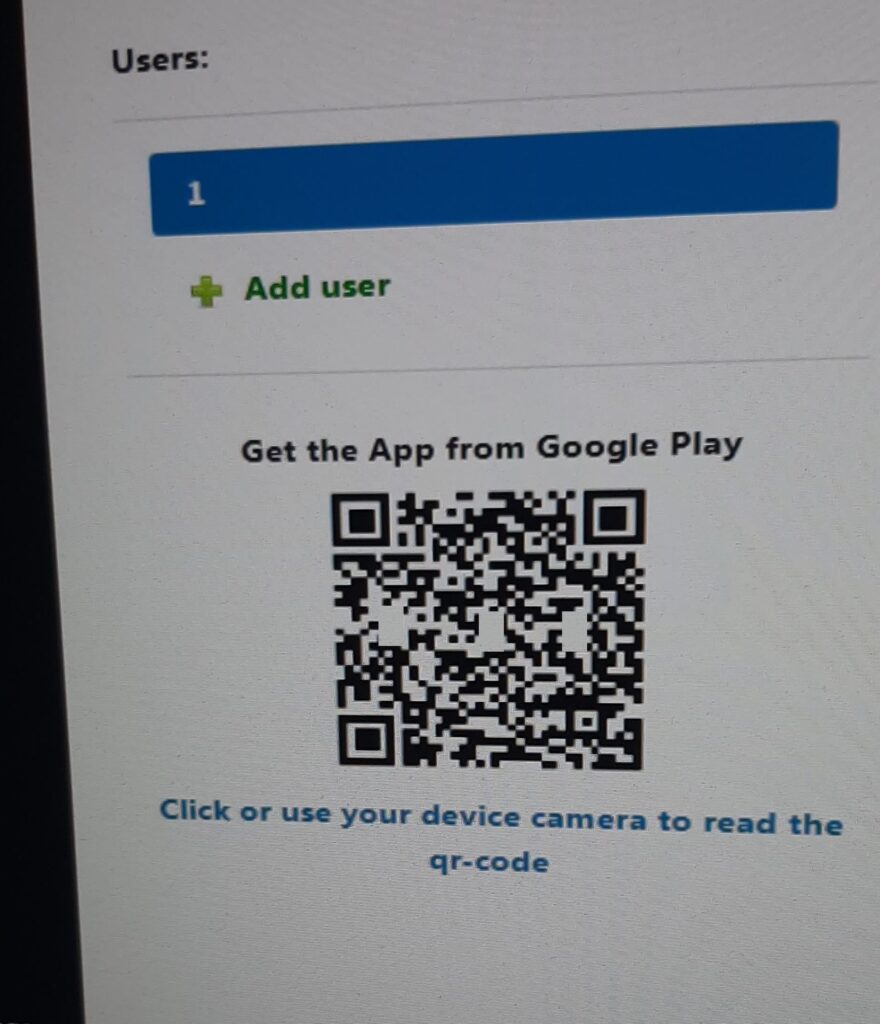 ---
When you download and open the app, you will see this screen. There is nothing to do here, just click Skip Authorization.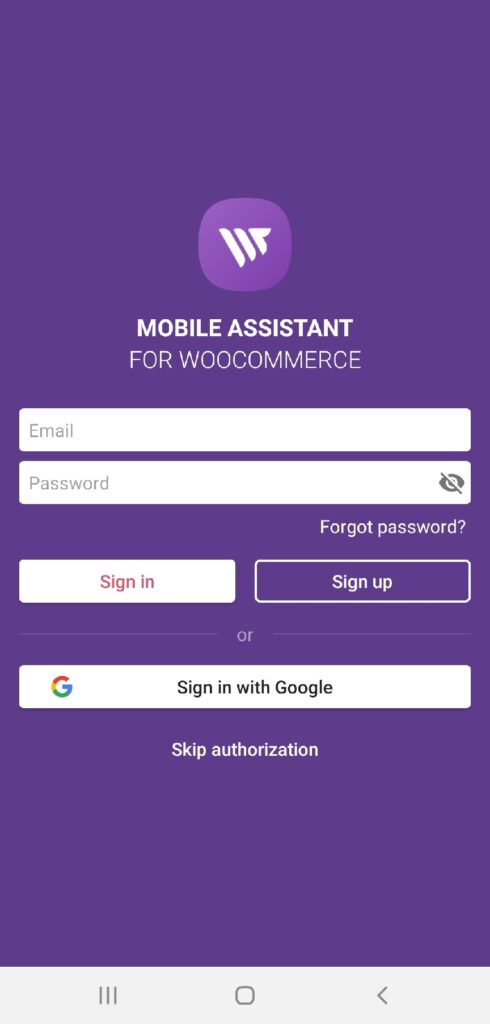 ---
In the next step, you need to confirm this.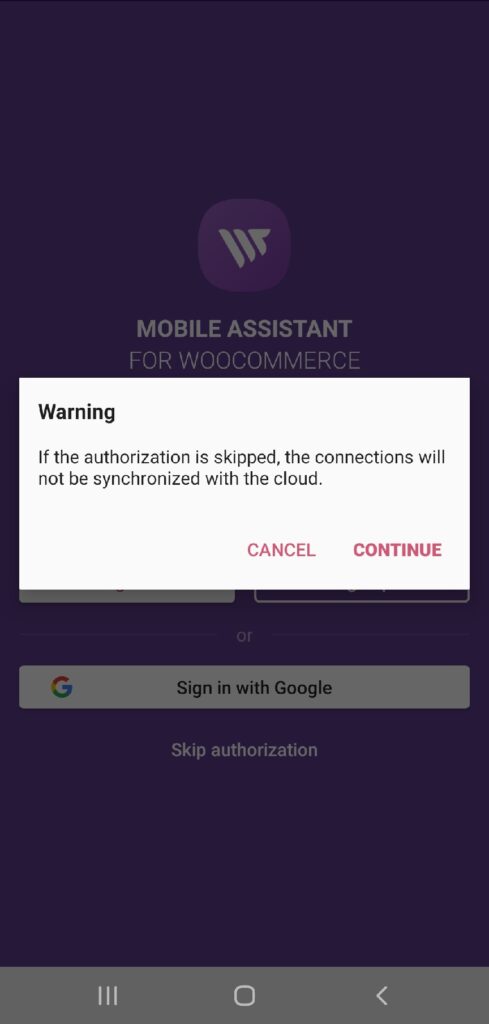 ---
In the next step, select the qr code icon in the upper right corner. Your phone camera will open and you will need to scan the second qr code on the site on the right.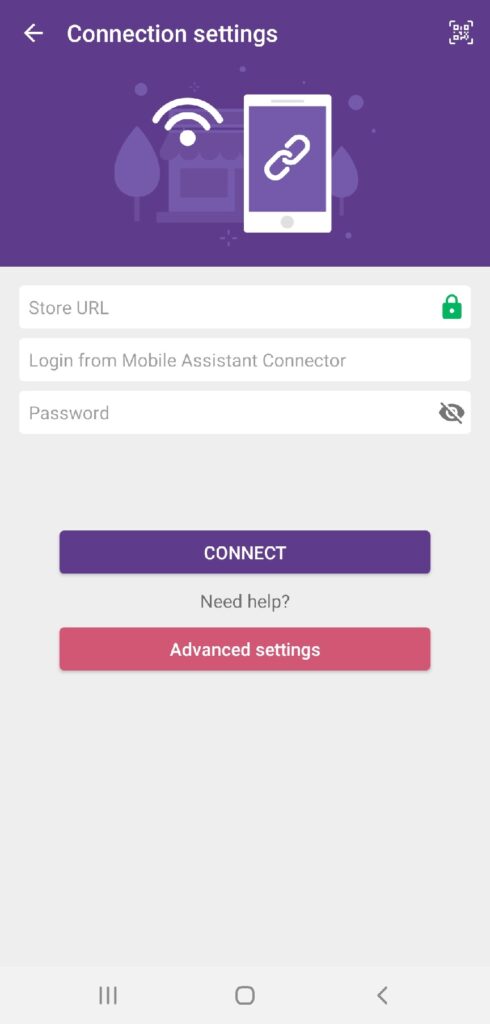 ---
Нажмите Подключиться и произойдёт подключение приложения к вашему сайту. На этом всё. При новых заказах в вукоммерс, вы будете получать всплывающее сообщение в верхней части экрана своего мобильного телефона.