General Settings Colormag
This article will show you how to customize the main characteristics of the site (not themes) based on the ColorMag template. These are global settings and are very important.
The settings are on the tab Settings – General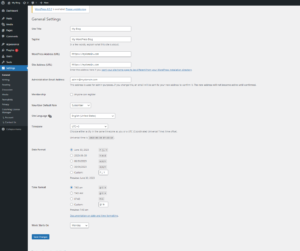 Here you can set the following settings:
Site Title: The name of your site
Tagline: A short description of what your site is about
WordPress Address (URL): here you need to specify the domain of your site and be sure to complete the address with https://
Site Address (URL): the wordpress address and the site address must match, that is, in this column you must write the same as in the previous one.
Administration Email Address: here you need to specify your email, it will receive notifications from the site. And you may need it if you recover your password.
Membership Anyone can register: this must be activated if your site provides registration.
New User Default Role: if registration is allowed, then you must select the role of registered.
Site Language: indicate in what language the content of your site.
Timezone: select the time zone, this is necessary for displaying the time of publication and other things. For the most part, this information is just for you, so that you do not forget what time you did something on the site.
Date Format: choose a convenient date format.
Time Format: choose a convenient time format.
Week Starts On: choose the beginning of the week that is convenient for you. Usually it's Monday.