Reading Settings Colormag
On this page, you will be able to configure the reading mode of your site. In fact, there are 2 options here: either your posts will be published as they are published, or a specific page will be displayed on which you can display the necessary widgets and customize the appearance of the site. All sites use the second option.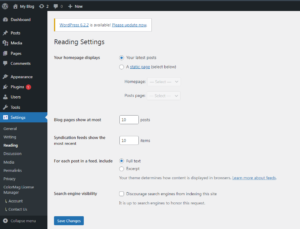 Choose the second option, Static Page. In the home page section, select the page that will be your main page.
By default, if you haven't published any pages yet, you will only have the option to select one page: Simple Page. This is not very convenient. It would be better if the home page was called Home. To do this, go to the Pages – Add New tab.
Write Home and publish it.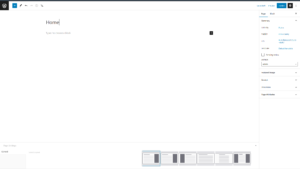 Now go to the Pages tab and you will see a list of all the pages on the site. Hover your mouse over the Page and select delete. It is better to do this immediately, so that later this page does not appear in the search.

Now go back to Settings – Reading and select the Home page as your home page.

In chapter For each post in a feed, include choose Excerpt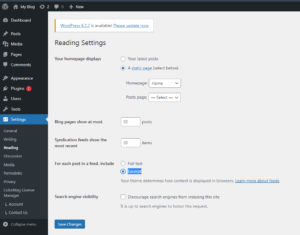 It is not necessary to close the site from search engines. Google will not immediately pay attention to your site and new pages will not appear in the search immediately, you will have time to set up and fill the site before the site results appear in the search.
This completes the configuration of this section.